Hey there bumblebees,
the other day – well last weekend we had friends over at our house. And as I love to bake especially for dear friends I made some cake and well cream puffs. Ands I must say these were amazing – and gone after 10 minutes. The recipe is a mixture of a recipe from Trine Hahnemanns book about scandinavian baking
 and I actually made up the recipe for the filling. I was always a bit anxious about making choux, but it actually is pretty easy! honestly, there are more difficult things to bake and cook!
I love the puffyness and that they are just small little sweeties to enjoy apart from the cakes. also they look so pretty on a nice coffee table!

Low fructose and lactose free cream puffs (makes 17)
Ingredients:
Choux:
50 grams of butter or lactosefree alternative, like margarine
100 ml of water
50 grams of spelt flour (630)
1 tblsp dextrose or other sugar substitute
A pinch of salt
A pinch of vanilla powder ( I get organic vanilla or scrape out half of a vanilla bean)
1 egg
Cream filling:
200 ml of lactosefree cream
200 grams of lactosefree mascarpone
2 tblsp of dextrose
2 tblsp of homemade raspberry purée*
Instructions:
Make the raspberry purée ahead and let it cool (recipe in the bottom)
In a medium saucepan melt butter and water on medium heat. Then turn the heat up and bring it to a boil.
Once it has boiled for max. a minute take the saucepan of the stove. Sieve flour, sugar, salt and vanilla (vanilla is just my sin of this recipe, it´s optional) and add it to the water and butter mixture.
With a wooden spoon stir it on the stove until the dough comes of the saucepan clean.
Let the dough cool down for about 10 minutes. Then stir in the egg until dough ist shiny.
Using a piping bag with a 1 cm round tip – I actually just cut it open as big as it should – pipe the dough on to a lined griddle leaving about 1 inch or 2 cm space between them.
Bake at 190°C (375°F) for about 20-25 mins or take them out as soon as they turn golden. In our oven it took around 16 mins.
Immediately after taking the puffs out of the oven prick a hole in each little choux using a pointy knife so the hot air can get out.
Let them cool for about 20-30 mins.
While the puffs cool down whip the cream until stiff.
Stir the mascarpone in a seperate bowl until it gets a bit creamier and add in as much raspberry-purèe as wanted. I think I added around 5 tablespoons. Be careful not to add to much, otherwise the cream gets to runny.
Carefully fold the whipped cream in the mascarpone and add vanilla and sugar until you like it.
After the puffs have cooled, pipe the cream into the holes you made with a thin nozzle. Be carefull not to overfill them, otherwise they will pop open.
Serve topped with some powdered sugar, dextrose or spinkle white chocolate on top. Enjoy!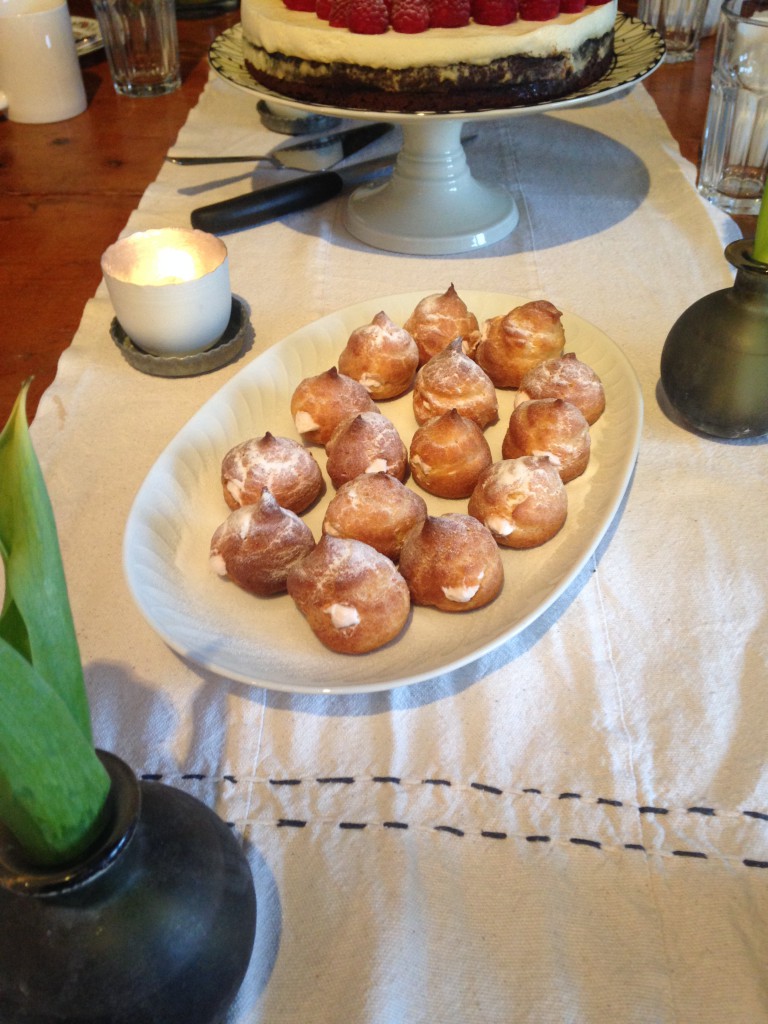 Raspberry purèe
* For raspberry puree use 200 gramms of fresh or frozen raspberrys. Place them in medium saucepan over medium to high heat with a bit of water, 2 Tablespoons of dextrose, 2 tablespoons of rice syrup, a bit of vanilla and a tablespoon of rose water. Cook to a boil and puree it. Then use a sieve and a big spoon to get a seedless purree. Very nice for a cake sauce or on bread with cream cheese.
I actually made eclairs with the same dough on new years eve already and covered them in chocolate, topped with fresh raspberries, but I actually made the cream according to the recipe and must say, I didn´t like the raspberry pieces in the cream and the chocolate became pretty hard, which made it a bit difficult to eat. Though they were delicious as well!
Let me know how your cream puffs turned out!
Joy and love , Anna Valeria