Hey there bumblebees,
I found this wonderful cookbook a few month ago, while sitting in one of my favourite cafés in munich called AROMA Kaffeebar – very recommended. And since I have bought this diamond of a cookbook I have loved it. The recipes are easy but special. It is filled with wonderful healthy recipes and substitutes a lot of "bad" ingredients with healthy ones. I still have to change some thins as i can not eat dates or agave nectar for example, but that is not a big problem as you know. My absolute favourite from this book are these soft and lovely sea salt chocolate chip cookies. I changed the recipe a bit to make it fructosefriendly and want to share it with you.
The original though is from the book Gesund kochen ist Liebe
 (english: cooking healthy is love) by Veronika Pachala from Carrots for Claire and you can find it here at Foodlovin (german only).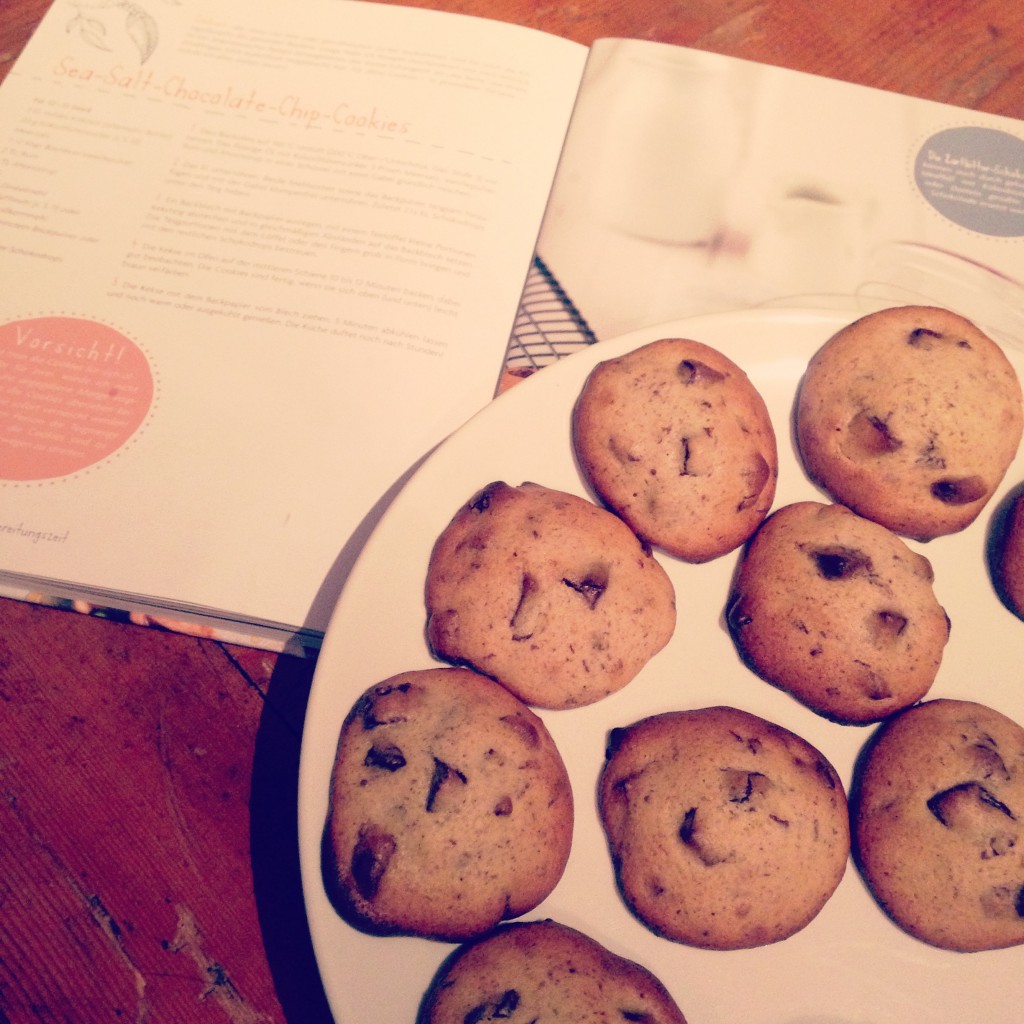 Recipe: Sea Salt Chocolate Chip Cookies | low fructose, lactosefree
Makes 12-13 cookies
Ingredients:
3 tblsp coconutoil, melted
20 g erythrit or dextrose
2-3 pinches of seasalt
1/8 tsp vanilla
2 tsp rum or rose water
1 tsp maple syrup
1 egg
50 g spelt flour
20 g buckwheat flour
1/4 tsp baking powder
3 tblsp chopped dark, fructosefree, lactosefree chocolate
Instructions:
Preheat the oven to 180°C / 350°F  and line baking tray with non stick parchment paper.
Melt coconutoil and let it cool a few minutes.
Mix oil with erythrit or sugar of your choice, 2-3 pinches of sea salt, vanilla, rum or rose water and maple syrup with a whisk until all comes together.
Whisk in the egg until incorporated. You should test the temperature, because if it still to hot from the oil the egg might cook.
Mix flours and baking powder in seperate bowl and carefully mix with oil-mixture until lumpfree and incorporated. Mix in chocolate chips or chopped chocolate.
With a wet teaspoon form 12-13 cookies and set on the lined baking tray.
Bake for 10-12 minutes and watch carefully. The cookies should be light golden brown.
Take tray out of the oven and pull the baking sheet from tray and let them cool for at least 5 mins…or don´t 😉 Enjoy!!
Let me know, what you think! I love  them loads! <3
Big hug, Anna Valeria