Hey there bumblebees,
I recently came back from Puglia, Italy. A wonderful vacation with friends, good food and looooads of sun! Our actual purpose to this vacation was the wedding of a really close friend and the baptism of her cute 1-year old daughter.
As my friend told me about her celebration, I was immediatly thrilled, as I have never been to puglia. So we flew over for one week and it was just beautiful!
We had a cute, little apartment only a few footsteps from a stunningly beautiful beach in Torre Lapillo. The beach consisted in white sand and the cleanest turqoise water I have ever seen in my live. I have been to Sicily a lot, but I have never seen a beach like this before. So here are my 5 favourites for this holiday:
Puglia favourite No.1 – Café con latte die mandorla
I know from my travels to Sicily, that latte di mandorla (a sweet kind of almond milk) is a thing in southern Italy. As we were younger, we used to slurp this stuff on the beach and as granita down in Sicily. I love it for it´s nice refreshing taste. It is sweet and tastes a bit like marzipan. You so get it as a paste and mix it up with water to get a "milk" out of it. So goot.
Anyways, in Puglia people drink almondmilk with ice cubes and espresso on top and it tastes so goood. Especially as a coffee addict like me I love how it refreshes you and awakens you even at 30 degrees celsius, when a normal human being stops drinking warm beverages. So good!
Puglia favourite No.2 – Beach, beach and beach
Day one in Torre lapillo (the little town we stayed at) was so full of wedding preperations and of course the wedding itself, I did not even had time to go to the beach. So we decided to hit the beach straight and rest on day two.
I have seen pictures of the beach and was so excited for it. But when i arrived there I was so stunned. it was the cleanes of water, completely turqoise and the sand was white. I could not believe, that we had a beach like that only  1,5 hour flight away from Munich! I am a little…hum let´s say picky with water temperature. I usually don´t swim, when we are at beaches or a lake, cause it is to cold. But this water was perfect! I went into it right away! The sun was hot, the sea had a perfect temeprature for swimming and I had two of my best friends and my love around. What else do you need? Well maybe a few caffee con latte di mandorla.
Puglia favourite No.3 – Lecce, history and a bit shopping
after a few days at the beach we decided to start a little sight seing tour through lecce. My friend organized a tour guide for the evening, but we decided 2 hours would not be enough. so after breakfast we started our trip to Lecce.
After 1 hour drive we arrived at the city centre, which presented itself so beautiful. These little streets, ancients amphitheatre, loads of cute cafés and beautiful domes and cathedrals. I am a fan of cathedrals and churches from ancient times, after I had an church-obsessed art-teacher at school. I love the moment you entar a cathedral and in an instant all the babbling and loud outdoors is gone. Everyone is silent and calm. I love to look at alll the detailing.
Our tourguide – nice lady from rome – told us about the paper maché from Lecce and that it is an old tradition, about the marble mosaics and the gold. She tought us about the history and that women weren´t allowed to be part of the city live. It makes me happy, that this tradition changed! and that in the town she lives it is still unusuall, when she sits in a café.
Puglia favourite No.4 – Poetry and Angels
After a lot of sandy beach time, I proposed the idea of having a day at some stone beaches on the eastern coast of puglia. I have read that puglia has a few grottles, there you can have a nice swim. So after an hour drive – totally worth it – we arrived at the "Grotta della poesia" (the grottle of poetry), which I researched online. from the street you could already see a statue of an angel just a few metres away from the sea. And the grottle itself was heavenly as well! Clear watter, and some cliffes to jump from. So much fun!
After my friends jumped from some cliffs, an italian guy, names helio wanted to show us the "real poesia". I toight us a bit history about the grottle, the queen and brought us to anotgher grottle, just 50 meters away, which normally is not open to tourists. This was a bit adventrorous but so interesting.
After a lot of swimming and jumping, we drove to otranto and had a little picnic at otrantos beach as the sun set. As we came back, you personal chef cooked such a delicious dinner for us. We had two fish and orechiette with seafood. Toooo delicious! I ate so much, my tummy hurt the whole evening!
Puglia favourite No.5 – The perfect sunset at Gallipoli
On one day the whole group decided to drive the 30 minutes to gallipoli for dinner and some food. At fist i thought, sure why not, but when we arrived, I knew why Gallipoli was the place! First of all, we arrived right, when the sun hit the horizon. Such a beautiful view, which made me speechless and made even me a romantic person for a few seconds. After the sun was gone, we walked along the wall, right beside the sea and into the cute little old town full of little streets, leading somewhere.
We decided to walk without a goal until we find a nice restaurant, that we like: So we did. After a short walk through a few very calm but utterly beautifull little streets we arrived at a cute little restaurants, that was only visited by italians – always a good sign. I had some fritto misto with lemon. So good!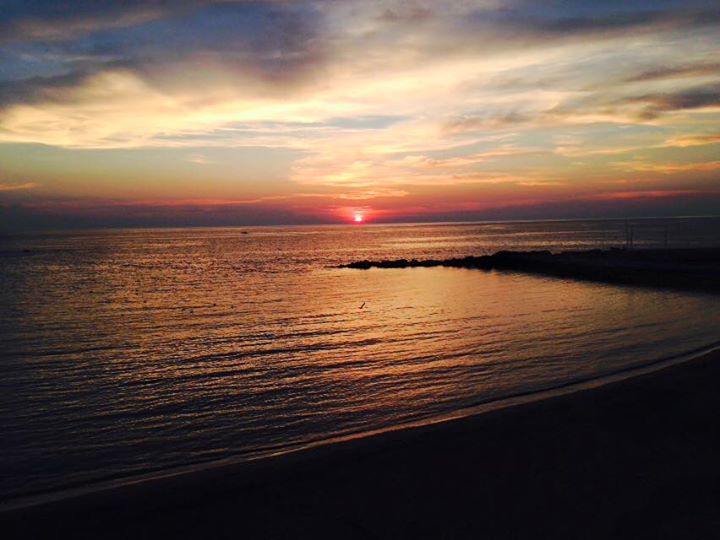 Have you ever been to puglia? It is defenitely a travel worth it! Beautiful beaches, lovely little old town, very good seafood and very friedly people!
Arrividerci e un bacio, Anna Valeria