Hey there bumblebees and a happy new year!
As most of the people like to set up some resolutions when the new years beginn. But as I never have any, I can´t tell you about mine! As I like to change things immediately during the year, there is barely something. But I hope 2015 will be a happier year with lovely people around me. And as I moved in with my boyfriend on the 29th of december, there is a lovely adventure. It is the first time I live with somebody after I moved out of my parents house. I love it, that we have the possibility to design the whole apartment together, and we started with our closet. I´ll make a post about it, when it is done! But I love it already!!! <3
I had a stressfull week before new years eve, because that´s where we moved. Before that I had a lovely quite xmas at my dad´s house. As most of us had a really moving and stressful year, everyone was happy this year ends. But before we celebrated so lovely!
My christmas outfit
For christmas I chose a elegant and classy outfit. As we were just at home – it was raning – I did not wear shoes.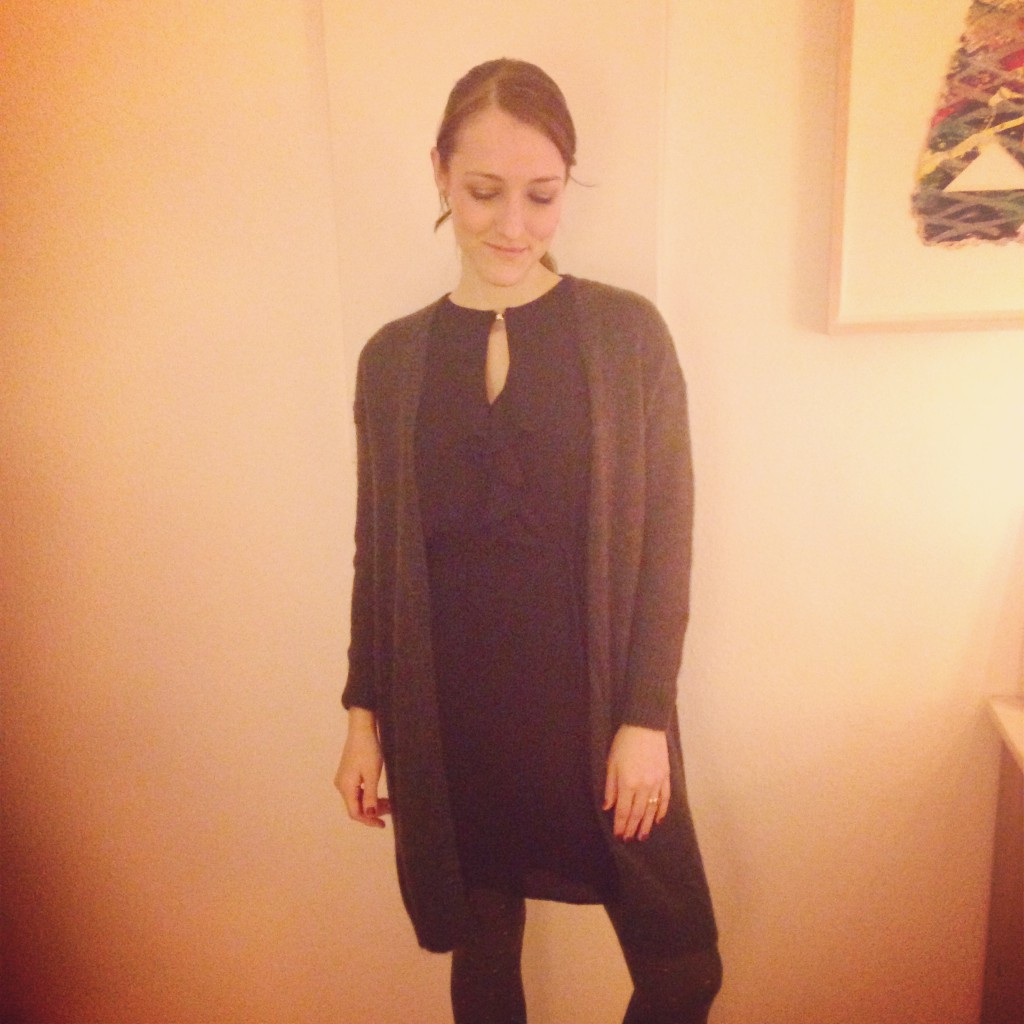 My black dress
and my cardigan are from H&M
My tights are from the drugstore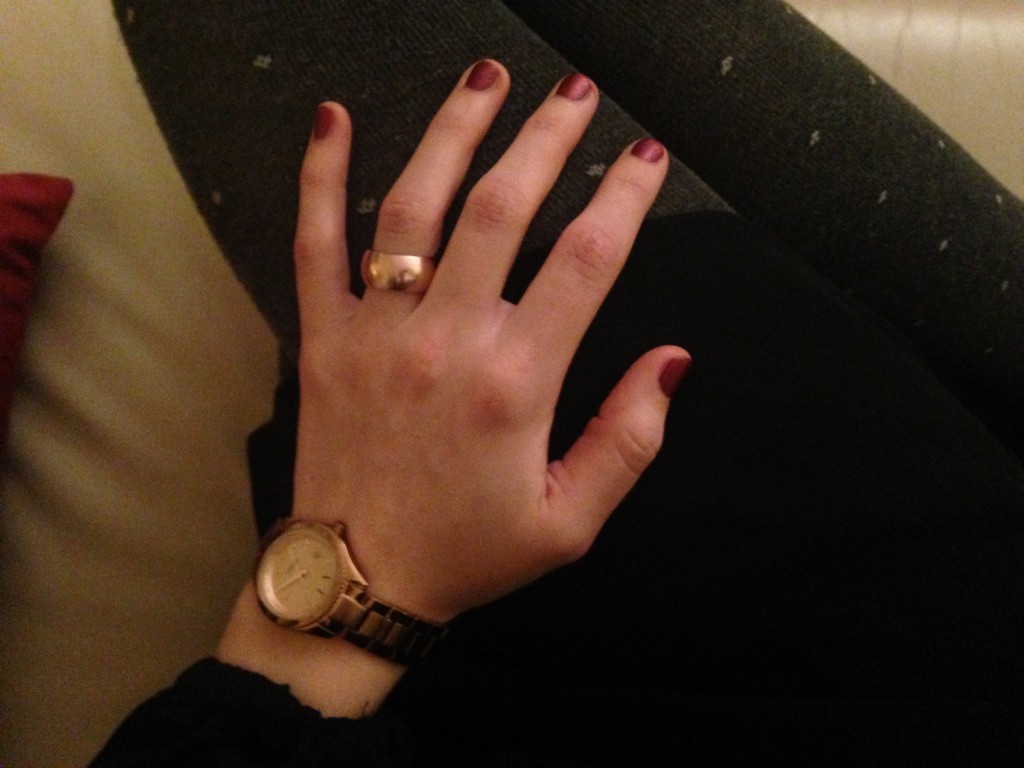 My rosegold watch
is from fossil
My ring is from frida´s
My dark red glitter nail polish
is from catrice
Our christmas dinner
My sisters and me decided an evening before that we want to organize a little apero. So we decided on little savoury pastries. These are so easy! You only need some puff pastry, some blue cheese, cinnamon and pear for the one on the left. On the right side my younger sister from Sophie´s Addictions made little "Flammkuchen" with ready made crispy dough, créme fraiche, bacon and onions. You add some nutmeg, salt and pepper. Very nice! We got a little booze and "opened our tummies" – cause that is what an apero should do. 😉

First course was a nice butternut squash soup (recipe will follow if wanted!). Followed by our traditional christmas lasagna. My dad once started to cook lasagna for christmas, cause cooking for three picky girls is difficult and everyone loves lasagna. But still we had a tofu lasagna for my older sister – she is vegetarian.

Our dessert came late – after midnight – because we were caught unwrapping presents, drinking wine, laughing and skyping with the grandparents in wisconsin. But still – we had dessert – we had poached pear with melted dark chocolate. Not to sweet but so easy, healthy and gooooood!!!
My christmas presents aka. Aesop, Lush and Zoeva
My christmas presents were so awesome! I got so much great stuff!!!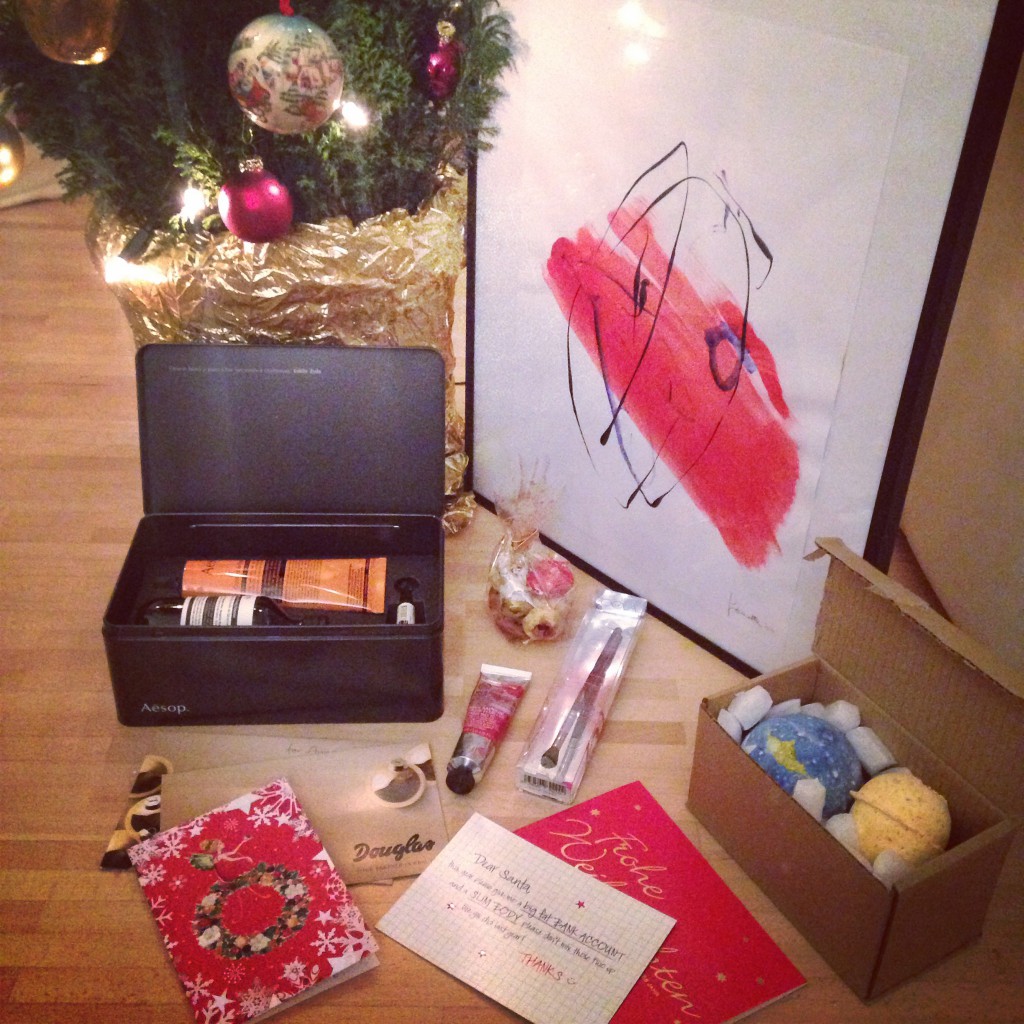 My younger sister gave me two bathbombs from lush a zoeva setting brush
and a Wild Rose Hand Cream from The Body Shop.

My older sister gave both me and my younger sister an Aesop Set.
From my parents I got money for our nice new closet – will write a post on that soon. My fathers lovely wife painted a wonderful artwork for my boyfriend and me. She is piano player and artist. I love her work!
What did you get for christmas, how was your nye??
See you soon bumblebees, annavaleria