Hey there bumblebees,
I recently visited my grand parents in Wisconsin. I haven´t been there in 15 years and was so excited to be back. But before I could hug my beloved grandparents, we need to travel from Munich to Copenhagen, to Chicago, to Madison. That is not only going to be a long flight, but a really long travel. I love planning my trips ahead, so there would be no surprises happening.
Especially a long flight need some preps, so here is what I took on my trip. The trip from leaving our flat here until we arrive in madison took us about 21hours with a lot of waiting inbetween. So I planned on being perfectly organized and have everything I need with me – who doesn´t, right? On my polyvore I made a set of similar items.
1. My outfit for the trip
For my plane outfit I chose a comfy and still stylish attire. I will go for a jerseydress over a black jersey leggins. So I checked, what I still have in my closet and bought a few bits and bobs. As I never wear leggins other than for homewear, I needed a new pair of just normal black leggins, which I found at H&M, as well as a comfy, longsleeved jerseydress. I still have at home a loungy long throw over cardigan, similar to this one. Also I bought some nice, warm and comfy leather boots
 to slip of as soon as we sit in our seats and change for some warm socks
. To keep me warm I wore this grey cashmere scarf
, which is big and snuggly and warm! The outfit below is similar to my outfit on the trip.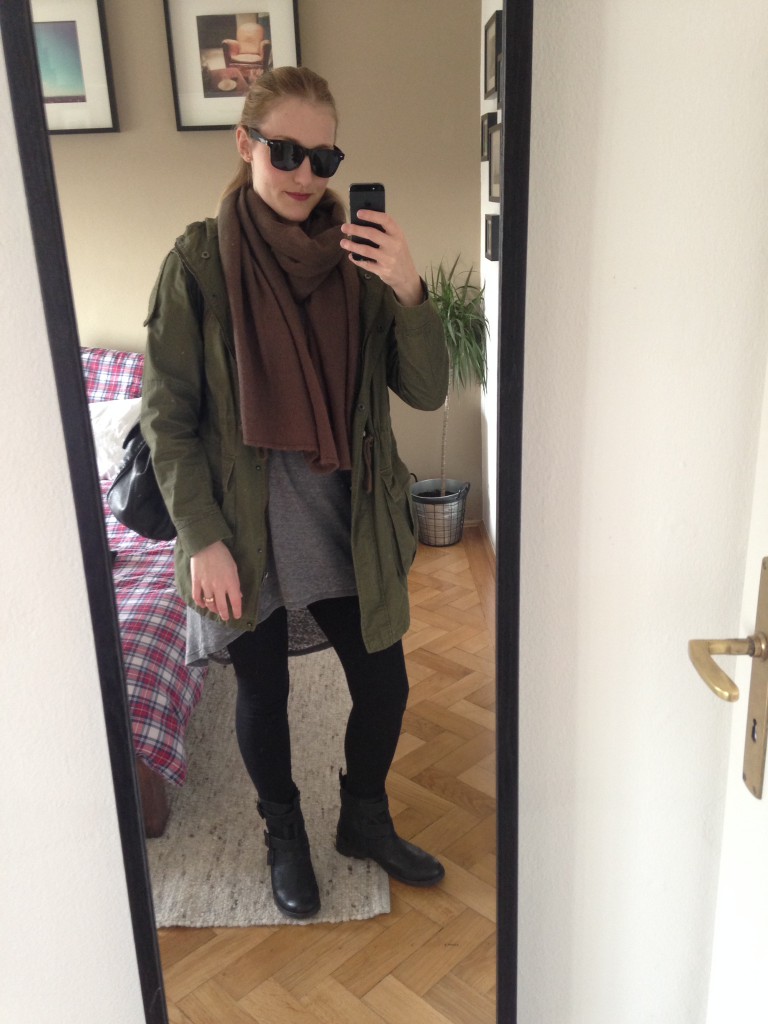 2. Trip munchies
I know we are going to get food on our flight from Copenhagen to Chicago and back and we already ordered the special meals – you get them first, but be careful, could be pasta mash, like I had! :/ To have some snacks in your bag is always a good idea to keep the humans ans the tummy happy. I went for some fructosefree sweets, like dark chocolate, puffed corn cracker
and some fructosefriendly cookies. For the vitamins, we took some fresh veggies (you need to eat them in the plane, can´t take them to the US!) in a ziplock and some sandwiches. I know it sounds like a lot, but we´ll be travelling in the US as well and have a flight back home as well.
We also bought a bottle of water each as soon as we passed the security check. You need to stay hydrated and would not want to ask the stewardesses all the time, right?
3. Beauty
For beauty I think it is easy. The most important thing is to stay hydrated inside and out. So I will take my Clarins Crème jeunesse for my hands, Blistex Med Plus
for my lips, my natural moisturizer and Clinique Moisture Surge Face Spray, which I filled in a smaller bottle, as you only get it in a 125ml bottle and can´t take that.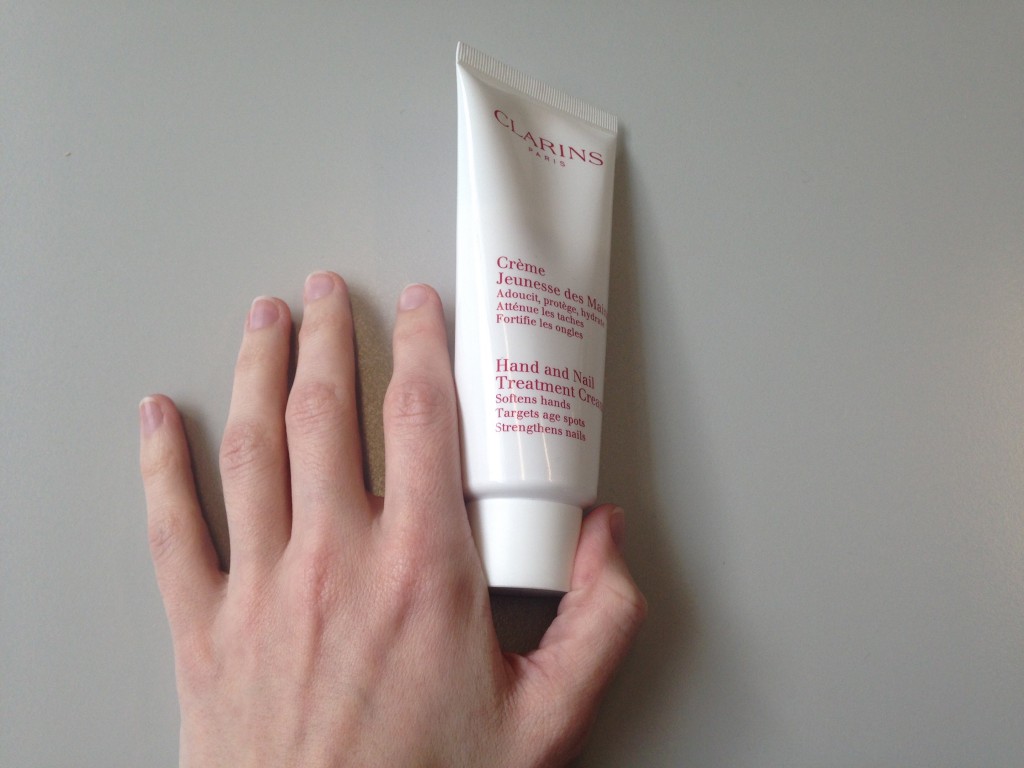 4. Entertainment
Our airplane (SAS) had tons of movies and other entertainment, but I like to make sure I have everything with me, so first I got some comfy Panasonic headphones
, so I can listen to relaxing music – like William Fitzsimmons – or watch movies. Of course I will always have my iPhone which contains music. I took my iPhone shuffle
 powerbank
. On a travel this long, my iPhone battery would die otherwise! I talso took my iPad (Candycrush and Twodots 😉 ).
5. Comfort
To stay comfy and maybe get some sleep I got a neck pillow
that can be turned into a normal pillow. I already have and used my sleep mask
. Then of course we need passports, tickets, all the papers and documents you need to travel overseas. In my case that is a bit easier, as I am amercian and do not fill in ESTA or anything. I just take both passports and go ahead.
What are your essencials, when you travel?
Loads of love, Anna Valeria