Hey there bumblebees,
I know I am not writing a lot, but I would much rather just post what is important, instead of spamming to much. No big apology, I am here to share my most recent favourite recipe with you. This one is based on a recipe from Trine Hahnemans book a bout scandinavian food.  As you already know, I change everything, so this is a fructosefree and lactosefree version.
They are just wonderful and so tasty, especially, when they are fresh. I usually make one batch and freeze most of it, because we don ´t eat them that fast. I love them with fructose free jam and butter – a wonderful fragrant. <3 Also They are awesome to prepare, when you need to bring something for a breakfast or have guests over.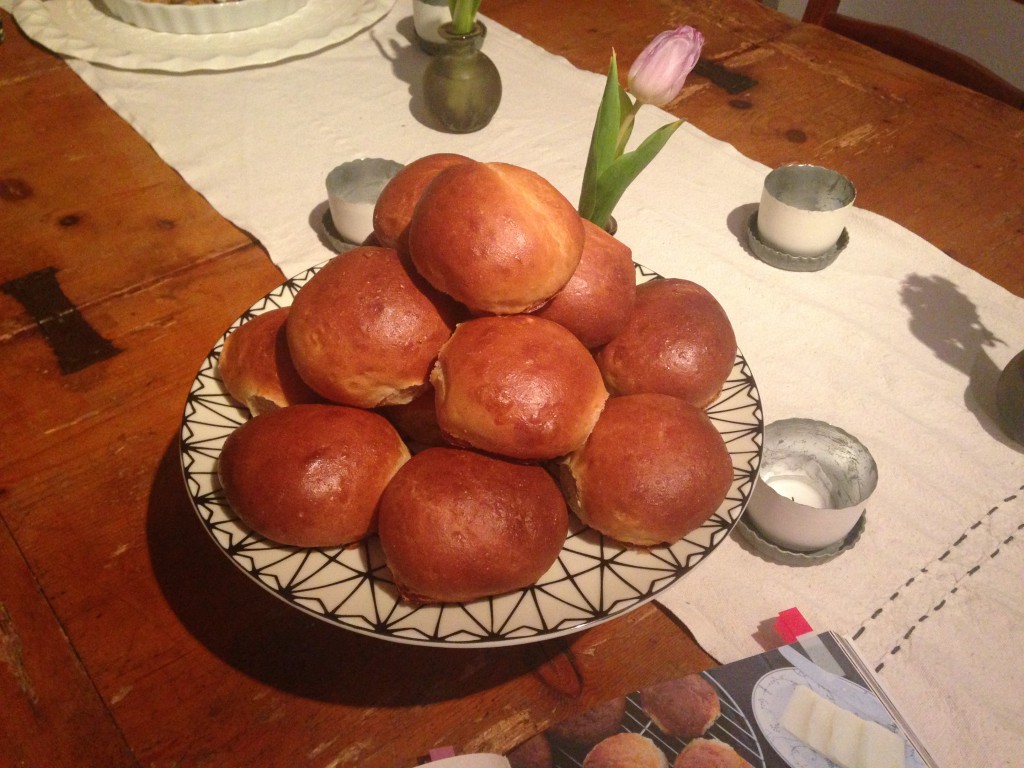 Recipe: Spelt cardamom buns
Makes 13-14 buns
fructosefree and lactosefree
Ingredients:
500 grams of organic spelt flour type 1050
a little buckwheat flour for working surface (works best!)
1/2 tsp cardamom (you can make 50:50 with cinnamon as well)
1 tsp of salt
20 grams of fresh yeast
375 ml of lukewarm milk
25 grams of melted butter or margarine, cooled
1 tsp of dextrose
1 beaten egg with a little water for brushing
Method:
Melt butter in a little pot and let it cool
Warm the milk in a seperate pot (careful, to hot mik could kill the yeast) and dissolve the yeast in the lukewarm milk then add the melted butter.
Sift the flour, cardamom, sugar and salt together in a big bowl and stir the wet ingredients into the flour mixture with a hand mixer or kitchen machine.
When a dough has formed that comes cleanly from the edges of the bowl, turn it out onto a floured work surface and knead for five minutes or mix it another 5 minutes with the hand mixer or kitchen machine (that is how I do it).
Return the dough to the bowl (oil in the bowl keeps it from sticking to it afterwards), cover with cling foil and leave to rise in a warm place for 1 hour.
Tip the dough out onto the work surface and slightly knead it, then shape it into 13-14 equal small buns. I use a kitchen scale to make them equal.
Line a baking tray and place them on the tray. Cover with tea towels and leave t
o rise again for 20-30 minutes. If the buns are slightly floured it keeps the tea towel from sticking to the buns!
Preheat the oven to 190°C ( a bit less that in the original recipe, because spelt browns much easier!).
Beat egg with a bit of cold water and brush each bun with egg wash.
Bake for 15 to 18 minutes. The original recipe calls for 25-30 minutes. Mine always were to hard at that time and to dark as well. So I figured, they are done after 15-18 minutes (depend on how many you make and how big they are. They should be light brown and fluffy
Take them out of the oven and cover with a clean tea towel while you cool them…or eat them warm with butter 😉
Enjoy these wonderful beauties and let me know, how your spelt cardamom buns turn out! 🙂
Loads of love, Anna Valeria