Hey there bumblebees,
I recently visited a lot of museums in wisconsin and an art fair in munich as well. And I need to say, I found a lot of new gret artists and art works of known artists. I kind of crave to start collecting art now. This actually does have quite a tradition in our family, as my mother studied art, my grandparents collect art as does my dad and my uncle. So I thought maybe I should share with you my recent art favourites.
1. Frank Stella
This is an artist I did not know, before my grandparents actually introduced to me. We went to an exhibition in Madison, when we were there and I was so impressed. he mostly does collages, but actually stopped because his printer retired and Ihe does not want to work with anybody else. It´s not that I really fancy all of his work, but once you see all the details and work that was put into each and every work, you really understand, why he is that successful! Here are some works by Frank Stella you can find at MoMa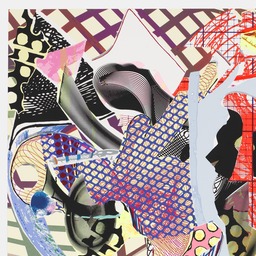 2. Vidvuds Zviedris
Anothe artist my grandpartens introduced to me. He actually lives in chicago but comes from Riga (Latvia) and I can see that in his pictures. they are kind of different but I feel a lot of melancholia in them. and I like that feeling. Also I really like his drawings, like the one below, you can find on his Homepage: http://vidvudszviedris.com/
3. Etchings by Anders Zorn
Anders Zorn is a swedish artist, who was born in the late 19th century and died in the 1920ies. He was known for his revolutionary paintings and etchings of naked women by the beach. I love his work for its detailing and expression. They are a bit dark, but I figured, I am a lot into dark art…More of his etchings you can find here at Zorn Gallery.
4. David Schnell
David Schnell is a German artist, who comes from the town, where I used to live quite a long time, whithout knowing he existed – Bergisch Gladbach near Cologne. I saw his picture in Milwaukees art Gallery and was just impressed. It´s quite a dark work but I immediately got the feeling his painting expressed. He lives and works in leipzig now, so no chance I am going to meet hin, when I visit my family there! The picture below is similar to the one in Milwaukee. This one is from Eigen Art Gallery:
5. Akihito Takumas "Lines of Flight"
This artist I saw the firt time at the STROKE Art fair in Munich and I loooove this painting called "Lines of Flight". So I did some research and this is a series of different similar paintings by him. A lot of them actually appeal to me a lot! I know, dark art again, but that is just what works for me! The one below is the "Line of Flight op 455" at Ponyhof Artclub
…so much for my five favourites, although I could go in for hours telling you about my favourite artists I saw recently! But that would be so boring! 😉
Which is your favourite artist or art work?
I hope you have an artsy and lovely day :*
Anna Valeria